NEWCOMERS CLUB BLOG
Spring Hospitality Event at Monroe's Highland
Our brunch with speaker "James Monroe" was attended by well over 70 Club members. Most took advantage of the self-guided tour through the Monroe home and strolled about the spectacular grounds. Some comments from those attending:
The Local restaurant did a really neat job catering with good service and delicious food. Nice group and good turnout - and perfect weather!
"President James Monroe" was an unbelievable speaker, and hard to tell he wasn't the real one looking at him! Heard so many interesting facts and stories, and sorry I can't remember all of them.
We took the full guided tour after the Bunch and really enjoyed it. Also found out that for each paid guest that you take, you can go in free like Monticello, although Monticello only honors Albemarle County and Ashlawn honors everyone.
A wonderful event today...nice group, and an outstanding President.
Many people thanked me for all this but it does take a team! I would especially like to thank Terri Miyamoto, Mary & Pete Mitchell, Wendy Seay, and Charlotte McDaniel, for all your initiative and help with the details in advance and "hands on" work at the site. Also great thanks for all your assistance to Ellen and Wayne Baker, Gayle and Bob Tofferi, Colleen Zanin, Elyse Everett, Ann and Hank Trautmann, Edwina Slater, and Carolyn Brauner, as well as the staff of The Local and Brittany Harton of Monroe's Highland.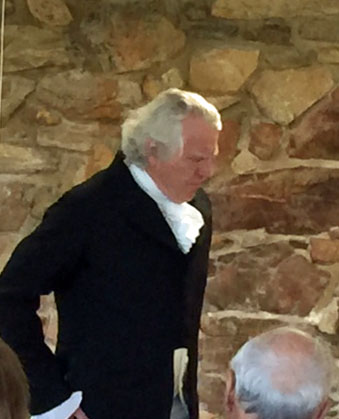 November Luncheon at Albemarle Ciderworks
We had a delightful luncheon at the Albemarle CiderWorks. Our 50/50 winner shared the prize with the American Red Cross. Everyone enjoyed the history of apples in Virginia and tours of the cider works.
Garden Group Gets a Preview of the Quarry Gardens
Members of the garden group were invited to see the work in progress at the Theiblot's property. Wonderful plans and exciting to see how much is finished.
Fiftieth Anniversary Luncheon, May 2016
We had a fantastic time at our special 50th anniversary celebration at Glenmore Country Club. Past presidents were invited, and Steven Meeks gave us a glimpse into Charlottesville's past and present with his presentation on Charlottesville characters. An extra hour for socializing preceded lunch -- time to catch up on summer plans from friends new and old.
Screen shot of video for our 50th anniversary
Luncheon at Farmington Country Club, March 2016
You could tell Easter was just a few days away when we met for our spring luncheon. Cole Burrell added to the spring theme with a fascinating presentation about using native plants in our gardens.
Luncheon at Meriwether Springs Vineyard, November 2015
November gave us a beautiful day for friends, food, and even a little wine. Our guest speaker, Alexandria Searls, executive director of the Lewis and Clark Exploratory Center, filled us in on attempts to recognize the famous explorers and their legacy in Charlottesville.
Newcomers Volunteer at Virginia Film Festival, November 2015
October Luncheon at Restoration Restaurant, October 2015
For our October luncheon, it was a beautiful day to look at the mountains from Crozet. Allie Hill, our speaker, gave us some interesting background on buying local food in Virginia, and how she is trying to make more available. We even got to sample some!
Fall Hospitality Event, September 2015
Newcomers Club "kicks off" each year with a major hospitality event, to welcome old friends, meet new ones, learn about activities, and find out how to volunteer with local non-profit groups. We welcomed several new member households to the club at the event!
United Way Day of Caring, September 2015
Garden Group Plant Swap, Spring 2015
This year's Garden Group Plant Swap was a lively affair that took place on May 20th in the fairy garden of one of the club's members. All came away with new additions for their gardens and new friends who also like to play in the dirt.
Luncheon at Boar's Head Inn, May 2015
The final luncheon event of the Newcomers Club 2014-15 season was held at the Boar's Head Inn on Tuesday, May 19th. Members and guests enjoyed a wonderful buffet lunch.
The day's speaker was Elizabeth Breeden, one of the founders of ArtInPlace. Under the sponsorship of the Council of the City of Charlottesville, this program makes possible the placement of juried sculptures along streets of the City of Charlottesville. During her presentation, Ms. Breeden explained the process of searching for, selecting and "disposing" of the sculptures.
Newcomers Club Singles Group Luncheon, April 2015
Members of the Newcomers Club Singles Group met in the historic Jefferson Room of the Farmington Country Club on Thursday, April 30, for a delightful luncheon and garden tour.
The weather cooperated for the garden tour with Janet Rodgers, who is Farmington's horticulturist and grounds manager, and the flowers were beautiful.
Garden Group at Ivy Nursery, February 2015
The Newcomers Club Garden Group defied the cold on a frigid Friday in February and learned how to build an indoor garden with the expert instruction of Midori at Ivy Nursery in Charlottesville. The indoor garden was composed of a perennial primrose variety that can be transplanted outdoors when warmer days arrive.
Luncheon at Michie Tavern, January 2015
On January 20th, Charlottesville Newcomers Club members and guests enjoyed a delightful luncheon at historic Michie Tavern. We savored the tavern's specialties, which include fried chicken and peach cobbler.
The speaker that afternoon was Tom Burford (who is also known as "Professor Apple"). He entertained and informed us by sharing some of his expertise regarding heirloom apples.